Heatless, Healthy Hairstyles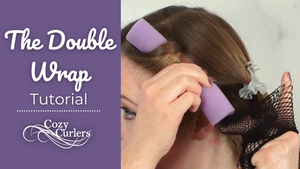 If you've watched our tutorials and are having struggles getting your Cozy Curlers to stay in overnight, you have come to the right place. This is where I'm going to tell you all about the double wrap and other little tricks to keep your Cozy Curlers in overnight. The Double Wrap The Double Wrap is a crucial step in getting your Cozy Curlers to stay in overnight. One of the biggest tips we can give you about securing your Cozy Curlers is to make sure to pull the net over your hair evenly on both sides. You can do this...
---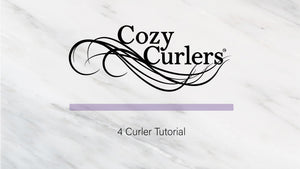 Using 4 Cozy Curlers is one of the easiest way to get easy, beautiful curls. This tutorial shows multiple angles of how to use Cozy Curlers. Part your hair into two sections - right down the middle, then part those sections in half. Spray the sections with water (or product for your hair type), brush, and wrap! Follow the tutorial above to get an idea of how it's done.  Loose Curl Tips This next video covers a few loose curl tips. If you want your curls looser than this, you may want to view our 2 Curler Tutorial and add a smoothing product of...
---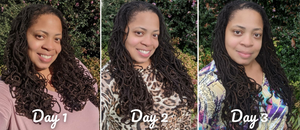 Want to know how Tanisha got these beautiful loc'd curls?  Let's let her tell you all about it. "Do you want to know how I got these gorgeous loc'd curls? I used Cozy Curlers! Here are pictures of my hair on Day 1, 2 and 3. Let me tell you how I did it. 1) I used 16 Cozy Curlers. Each set comes with 8. 2) Using the spray bottle that comes with each set, I sprayed water on each section of locs until they were damp (not dripping, but damp). 3) I rolled my hair from the TIP TO...
---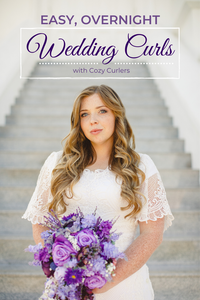 Your wedding day is one of the most beautiful days of your life, but that doesn't mean it's not stressful! You have so much to worry about already, you shouldn't have to worry about your hair. Most brides spend 1-3 hours on their hair and makeup the day of their wedding. If I would have used a curling iron, it would have taken me this long to get ready too (plus, my curls wouldn't have held for more than 2 hours before turning into a light-wave). But because I used my Cozy Curlers, my curls were done in less than 5-minutes that...
---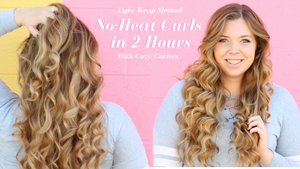 The Tight Wrap Method for wrapping Cozy Curlers is one of my favorite ways to do my hair. Sometimes I don't put my curlers in a night. Sometimes I have to workout in the morning or I just forget and fall asleep before I get the chance to put them in. But I don't want to spend an hour damaging my hair by curling it with my curling iron.  For days like these, I like to do The Tight Wrap Method. My thick, long hair holds the curl better than if I were to do a regular wrap for an hour or...